Vibration resistant

Developed for extreme loads

Higher ­productivity

through the simplest operation

Maximum ­resistance

against aggressive substances

When the earth quakes

Wölfle technology is used
Electrics

Vehicle harness
Central electronics PDU PCB
Control panel

Electronics
Vehicle harness
Cold milling machines mechanically break asphalt and concrete out of the pavement. In these extreme applications, the cable sets have to withstand the highest loads. That is why they have, for example, encapsulated plugs and are manufactured with the highest level of process reliability in crimping and laying. This is the technically highest degree of automation (KOMAX®).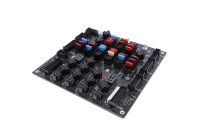 Central electric PDU PCB
The individual components are specially glued and encapsulated and have special mounting points. This creates an extremely vibration and shock-resistant board.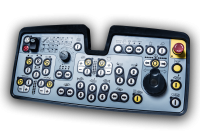 Control panel
In road construction, high-precision work is a must, even in spite of extreme shocks and vibrations. Only the best technology can ensure that the quality is right and that production on schedule is possible. With Wölfle technology, you keep the quality standards in your production high and ensure zero downtime. Our control panel was specially designed to withstand external influences as well as possible.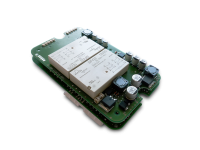 Security surveillance
Especially when large machines are in motion and the focus is not on driving but on the process, it is very important that you can rely on the machine and that everything runs "safely". The Wölfle safety module was designed as a retrofit plug-on solution and reliably secures the machine so that you can rely on it.